Salon du Mariage de Nancy 2023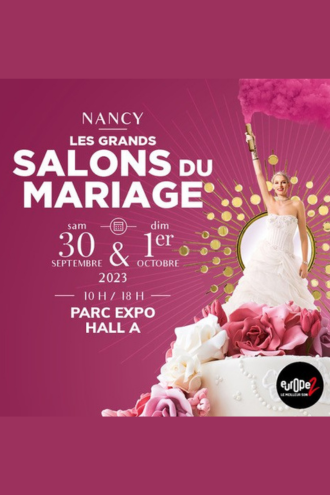 Date / Heure
Date(s) - 30/09/2023 - 01/10/2023
10 h 00 min - 18 h 00 min
Emplacement
Parc Expo
Welcome to the Salon du Mariage de Nancy! This exceptional event will take place on Saturday September 30 and Sunday October 1, 2023, at the Nancy Exhibition Center, from 10am to 6pm.
Don't miss this unique opportunity to meet quality suppliers and discover the latest trends.
Attend the 3 fashion shows on Saturday and Sunday at 11:30, 14:30 and 17:00 to admire collections of the most elegant wedding dresses and refined suits. On-site parking, non-stop catering and snacking.
Join us for a magical moment and prepare the wedding of your dreams!
Admission: €5 per adult.