The welcome pact
The Welcome Pact
Organising a big event in Nancy is easy!
Business tourism professionals working together to facilitate the preparation and holding of your event. Our welcome pact helps you organise your event with peace of mind, while benefiting from exclusive offers selected especially for you.
In organising your event, we offer help with the application files, provide a communication kit as well as institutional support letters, and put you in touch with local professionals; we also offer free accommodation management, room allocations and rates guaranteed by the accommodation providers, etc.
To make your event stand out, we offer a personalised welcome tailored to your event at the airport and train station, we also help install banners, and provide an exclusive display system in the city, etc.
To enhance attendees' satisfaction, we offer a business pass so they can discover Nancy's culture and retail options, as well as a personalised welcome at their hotel.
Eligibility criteria
Professional events such as congresses or conventions with more than 500 participants over a minimum of two nights.
Professional events such as congresses or conventions of more than 300 participants over two nights minimum, in relation with the territory's sectors of excellence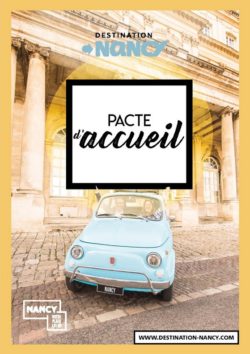 Download the Welcome Pact (french)