Rallye Jeunes Yacco FFSA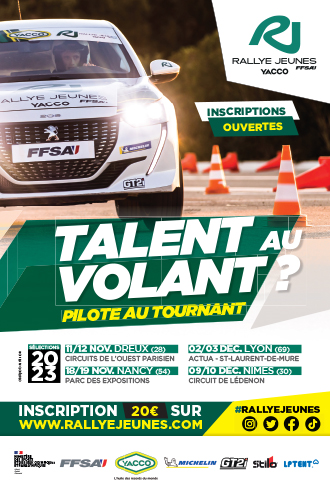 Date / Heure
Date(s) - 18/11/2023 - 19/11/2023
9 h 00 min - 17 h 00 min
Emplacement
Parc Expo
Principle :Since 1994, the Fédération Française du Sport Automobile has organized the Rallye Jeunes FFSA selections, an operation designed to detect young rally drivers, including Sébastien Ogier, Sébastien Loeb and Adrien Fourmaux.
How ? In order to detect and train tomorrow's champions, the Fédération Française du Sport Automobile is setting up several regional selections. On each of them, candidates face a short timed course ("1st degree course") during a slalom punctuated by a half-turn on the handbrake and emergency braking. Competitors approaching the reference time by 10% or less enter the "2nd degree course", which takes place on a different route to the first. Each day, the top 6 candidates qualify for the National Final.
For who ? Any French citizen aged between 18 and 25 (born after December 31, 1995), male or female, in possession of a B driver's license, whether FFSA-licensed or not (with exceptions, see regulations).
The two Rallye Jeunes Yacco FFSA 2023 winners (1 driver + 1 co-driver) selected by the FFSA will join the Rallye Jeunes Yacco FFSA 2024 team and take part in the Stellantis Rally4 Cup as part of the French Rally Championship, with an opportunity for the winner to become a Equipe de France driver.
Registration on site or online – Price: €20