Enrico Macias in concert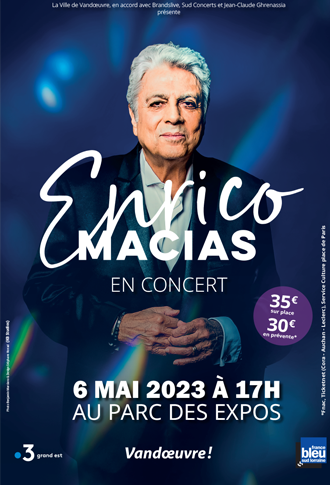 Date / Heure
Date(s) - 06/05/2023
16 h 00 min - 18 h 30 min
Emplacement
Parc Expo
After 60 years of career, Enrico Macias is going on tour again in 2023 and will take the stage at the Parc des Expositions for the occasion.
Built on the tempo of a day, Enrico Macias' show starts with his first successes in a music-hall atmosphere; the day continues until the evening to the sound of Arabo-Andalusian music, to end in apotheosis with a party as only Enrico has the secret!
Because Enrico Macias is a Mediterranean man, his songs bring people together and offer a message of hope and tolerance. With his warm voice and his poetry, he unites the generations and gives us the gift of his legendary and sunny smile.
Registration and fees :
35€ on site
30€ in presale
Opening hours : 4pm