Anim'Est 2023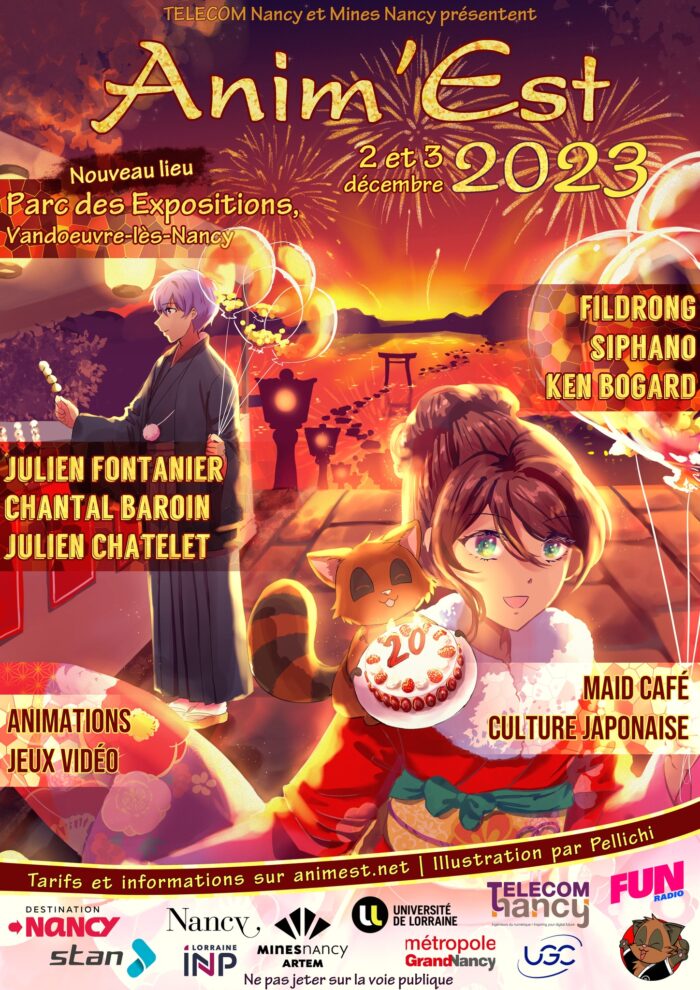 Date / Heure
Date(s) - 02/12/2023 - 03/12/2023
Toute la journée
Emplacement
Parc Expo
Anim'Est is the largest student convention on Japanese culture in the Grand Est region. Organized by students from TELECOM Nancy and Mines Nancy, the convention is gearing up for its 21st edition on the weekend of December 2 and 3, 2023 at the Parc des expositions de Nancy. Nearly 200 volunteers and 300 contributors join forces to help over 8,500 visitors discover or rediscover Japanese culture. The program includes concerts, traditional and modern culture, karaoke, gastronomy, cosplay and much more!
This year's headliners include 𝘃𝗶𝗱𝗲́𝗮𝘀𝘁𝗲𝘀 𝗱𝗲 𝗿𝗲𝗻𝗼𝗺 𝘁𝗲𝗹𝘀 𝗾𝘂𝗲 𝗙𝗶𝗹𝗱𝗿𝗼𝗻𝗴, 𝗦𝗶𝗽𝗵𝗮𝗻𝗼, 𝗞𝗲𝗻 𝗕𝗼𝗴𝗮𝗿𝗱, 𝗲𝘁 𝗝𝘂𝗹𝗶𝗲𝗻 𝗙𝗼𝗻𝘁𝗮𝗻𝗶𝗲𝗿 (𝗖𝗼𝘂𝗿𝘀 𝗱𝗲 𝗷𝗮𝗽𝗼𝗻𝗮𝗶𝘀). We will also be honored to welcome 𝗰𝗼𝗺𝗲́𝗱𝗶𝗲𝗻𝘀 𝗱𝗲 𝗱𝗼𝘂𝗯𝗹𝗮𝗴𝗲 𝗖𝗵𝗮𝗻𝘁𝗮𝗹 𝗕𝗮𝗿𝗼𝗶𝗻 𝗲𝘁 𝗝𝘂𝗹𝗶𝗲𝗻 𝗖𝗵𝗮𝘁𝗲𝗹𝗲𝘁.
It is with passion and motivation that the whole team hopes to welcome all those curious and passionate about Japan for an unforgettable weekend! At least, until next year!
Opening hours :
Saturday 2nd: 9.30am – 8pm
Sunday 3rd: 9.30am – 7pm