Getting around
For several years, Greater Nancy has been committed to a new approach to urban mobility, which encourages sustainable travel.
As a result, several options are available:
Walking – Nancy is a city that can be explored on foot. The TGV train station is located one minute from Prouvé Centre. When exploring the city, hotels, shops and restaurants are all within a 15-minute walk. Enjoy a sense of well-being in a city on a human scale!
Cycling – With a cycling network covering 175 km, Greater Nancy gives pride of place to cycling. VélOstan'lib offers self-service bicycles at 29 points across the city, and VélOstan'boutic offers bike rentals from eight rental points across the greater urban area.
To learn more: www.velostanlib.fr et www.velostanboutic.fr.
Let someone else drive – With a public transport network comprising sixteen bus lines and one tram line, you can easily get around Nancy and the rest of the metropolis.
To learn more : www.reseau-stan.com.
Drive – Nancy offers car-sharing options, with self-service cars managed by CITIZ and CITY MOV'.
To learn more:https://lorraine.citiz.coop/et http://www.citymov.lu/.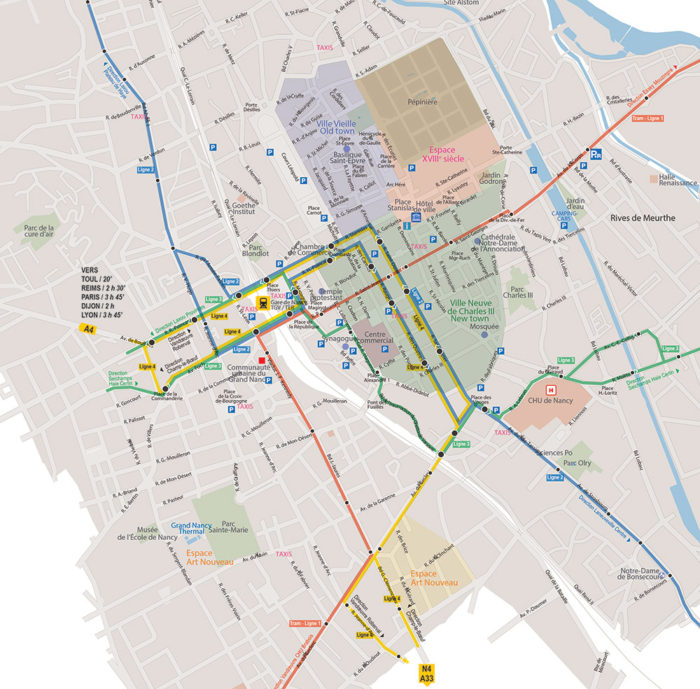 Pro tip: the G-Ny mobile application(http://www2.g-ny.org/) allows you to plan your route by combining bus, tram, train, cycling, driving and walking. You can also access the website. (https://app.g-ny.org/).